Free Download Printable Mother's Day Greetings Cards 2021: Mother's Day is around the corner and we are here to wish all the Mothers around the World a Happy Mother's Day. A mother is someone who will sacrifice everything for her children and her family. She is the only one who brings unity to a family and she can do anything to make her family happy no matter what.
The Mother's day celebration is going to be held on May 9. However, in some countries, the celebration is held in the month of March but the main reason behind the day is the same and that is to pay tribute to every Mother, motherhood, maternal bonds, and the impact of mothers in society.
Every mother is special and amazing; she is the one who works every day without taking any break just to make her family happy. The love and care of a mother can't be compared with anyone else, she is unique and irreplaceable. Well, the role of a mother is so important in everyone's lives that just one day is not enough to thank her. She is very special and you should always celebrate mother's day by honouring her no matter what.
Today, we have tried to do something special for all our mothers and all maternal figures around the world which includes mothers, grandmothers, great-grandmothers, mothers-in-law who had a great influence and involvement towards us and our family.
With the help of our page, you'll find a collection of creative printable cards to browse themed around tea, cake, and all those sweet things we link with Mother's day. These cards all derive from high-quality PDFs, so they are going to look even more amazing than the images on this page. All you just need to do is to find out your favourite image and then download the PDF and take a print out of it.
Happy Mothers Day 2021 Printable Greetings Cards-
The card templates are basically a single-fold design, so you just have to cut around the outline, you can also use the corner guides in order to help you out. After that fold down the centre, I would personally recommend printing out your card on top of thick paper or card-stock, but you can also paste your print-out on thicker paper to create it sturdier.
Also Read->> Mother's Day 2021: History, Observance, Activities And Best Way To Celebrate Mom's Day <<<
If you want you can also write these beautiful lines or messages to your mother on the card such as:
I believe in love at first sight for you are the first person I saw when I opened my eyes and have loved you since that day dear mum.
Happy Mother's Day Mom! I couldn't be more blessed to have a mother like you.
Roses are red, violets are blue, sugar is sweet, and so are you! Happy Mother's Day to the sweetest mother in the world, we love you!
Beauty and brains you're more than that, you are a great mother, a hero and a loving friend right from the start.
You an angel, you make everything more beautiful, and you are one of the most loving mothers I know. I am so glad to be your friend. Happy Mother's Day!
Nothing can be compared to the love a mother has for her children. Your love is incomparable, unconditional and inseparable. No matter where I go or what I do, at the end of the day I always find myself finding solace in your advice. I love you too Mommy. Happy Mother's day.
I hope you will find out the right one for wishing your mom a best Mother's Day celebration. Once again, Happy Mother's Day to all the mothers all around the mother!
"Wishing you all the Love, Health, and Happiness that you so deserve."Happy Mother's Day to all the mothers of the world!
To the best mom in the world. Thank you for being chief cook, counselor, taxi-driver, cheerleader, and best all-around mom in the world.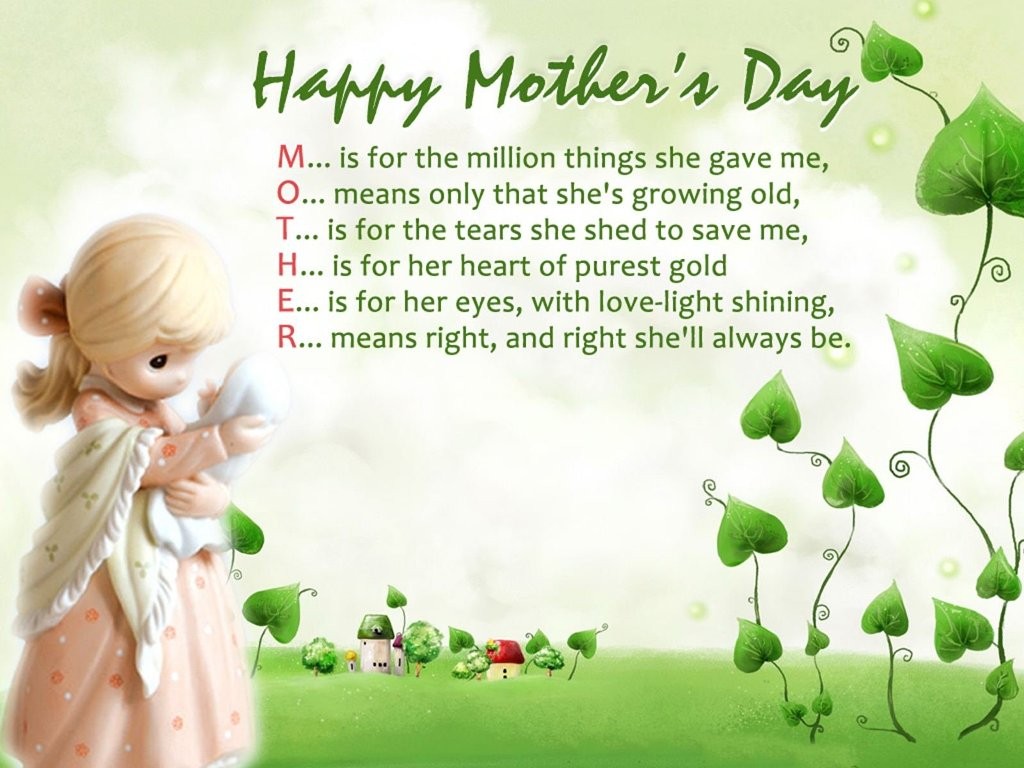 "Roses are red, violets are blue, sugar is sweet, and so are you! Happy Mother's Day to the sweetest mother in the world, we love you!"
Final Verdict
Mothers Day is the Special Day honouring Mothers and it is Celebrated in lots of countries throughout the World. In The United States of America, Mothers Day is celebrated on the Second Sunday of May every year. The Idea Comes in America when a Woman Called Anna Jarvis held a Small Memorial Service For Her Own Mother on 12 May 1907. After that Many Places in the USA were Observe the Day in 1914, the US President Made it a National Holiday, Celebrated on the Second Sunday of May.