Spring Bank Holiday 2019: The Spring Bank Holiday or "late May bank holiday" is the time for the individuals in the United Kingdom to have a day off work or school. Every Year its falls on the Last Monday of May but it's used.
Everyone agrees to the fact that May is one of the best months of the year. It has not only one but two long weekends. If you are looking and searching for an inspiration to know what things can you do on the second bank holiday then you are in the right place. There is an array of exciting events that will tempt you out of the doors of your house.
There are tons of events to get indulged from foodie festivals to vintage record fairs, gigs with big names and runs with sporting legends. Here's the list of the events for this spring bank holiday.
Top Things To Do In This Spring Bank Holiday 2019
All Points East
All Points East had a successful launch last year and thus is returning with full excitement. It will kick-off back to back two brilliant music weekends. The big names such as Hot Chip and Primal Scream on Friday, Johnny Marr and Jarvis Cocker on Saturday as well as James Blake on Sunday.
Free beer with West Berkshire Brewery
To make special this weekend, West Berkshire Brewery has decided to give back 150 points across their two London Maverick partner pubs. This is so that around 300 pints come up for grabs. All thirsty punters can ask for a free beer at Oxford Tavern in Kentish Town and Old Suffolk Punch in Hammersmith and they just need to ensure that they are one of the best 50 through the door.
Feria De Londres
Some colorful casetas are going to pop up this weekend for the festival which has its inspiration from the traditional spring fairs in the Spanish region.
The South Bank's Bernie Spain Gardens have planned the first three-day event that promises all kinds of entertainment with Sevillana dance lessons, Flamenco shows, and live Spanish music.
Foodies Festival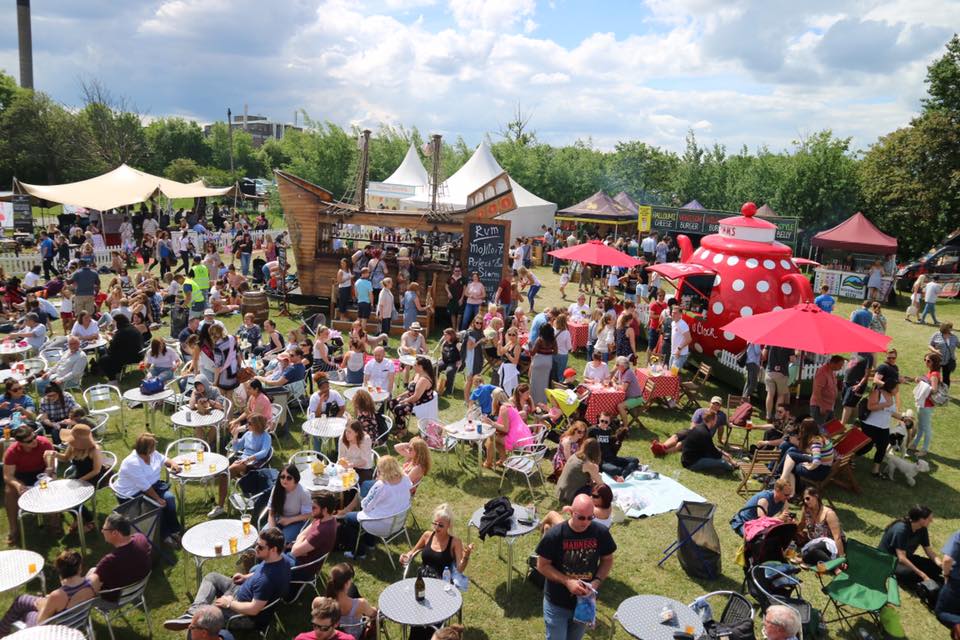 Syon Park is returning with Foodie Festival with much excitement and a lot many things for guests to enjoy. The Master Chef  Winner Irini Tzortzoglou and Celebrity MasterChef Winner John Partridge will cook in Chef's theatre. Taking the music side, Boyzlife and Queen tribute will act Flash Complete on this year's lineup.
Jeffrey Bernard Is Unwell At the Coach And Horses
This show will tell the story of the London Journalist and alcohol Jeffrey Bernard who gets locked in the pub for a night. Pub landlord Alastair Choat is playing the role to protest pressure to give his independent pub.
Sunday Brunch At Piano Works
Another bank holiday in a way means another brunch at Piano's Works. Two hours of free-flowing booze will be on and it is an offer with the option for Aperol Spritz, prosecco, Italian pink sparkling wine or Bloody Marys.
Ribs and Roots BBQ At Club Mexican
National Vegetarian Week has just gone mad also if it gave you a taste for plant-based food then Club Mexicana will be hosting a Ribs and Roots BBQ on Sunday. In the true Mexicana style. Jack Fruit will serve good in the menu.
Peckham Record Fair
All Vinyl lovers should go on heading towards Peckham for a kind of thorough vintage affair at Copeland Park. The record will pop up next on the Peckham's restaurants and food-vendors which can prove as a good refuel and refresh before going back.
Vitality Westminster Mile with Mo Farah
The event will state in The Mall and will finish in the front of Buckingham Palace. The long-distance runner as well around athlete  Mo Farah will take part in it. A Wellness Festival will continue to run at Green Park offering all family related activities and such stuff.
KERB's Jam on Rye Festival
The team at Kerb will now be back for another bank holiday. This event is organized to showcase the talents from the World of Music, Dance, and Arts.