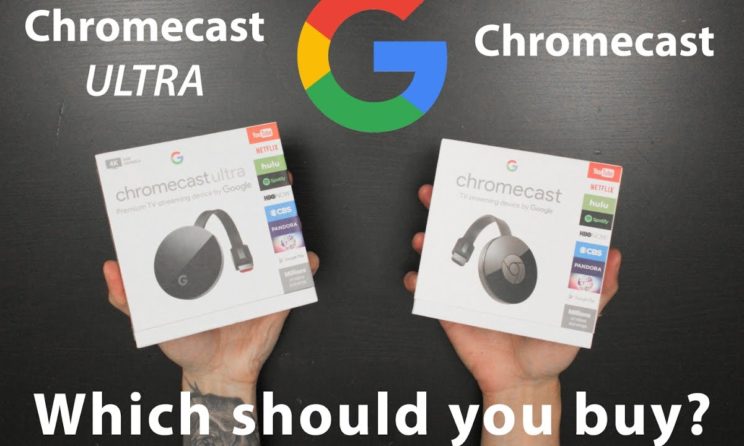 As the Black Friday and Cyber Monday sales approach searches for or best devices to buy continue. Today we are posting a comparison between Google Chromecast and Chromecast Ultra. So if you are looking to buy a chromecast this Black Friday sale then this comparison might be effective for you.
Chromecast is a small device that plugs into an open HDMI port of your TV or any other display that can play back video and audio. You can use apps from your phone or through the Google Chrome to set up a name and get it ready to receive a movie or TV show or anything else you want to see on a big screen.
Chromecast: The affordable and powerful media streamer
A chromecast can stream local content like pictures or videos, but when you are streaming from an online show that Netflix it doesn't go through your phone. Instead, it makes a connection with the source and streams directly, saving the battery and not using your phone's network bandwidth.
The Regular Chromecast
The $35 HDMI puck is the basic media stream that many people wants. It allows you to stream full HD videos on big screen. It supports 802.11ac Wi-Fi at both 2.4 GHz and 5GHz. Additionally, it is powered with a micro USB cable, connected to a 5V/1A power source.
Regular Chromecast is a basic media streamer with least features. It is just like an ordinary streamer which comes at an affordable price tag of $35. The downside of the regular Chromecast is that it cannot stream 4K content, unlike the Chromecast Ultra. The regular Chromecast is just a basic media streamer decent specs at its price range.
Chrome Cast Ultra
The Chromecast Ultra offers a step up from the regular version. When provided with a suitable broadband connection it can stream 4K Ultra HD and HDR content without any buffering. The hardware inside the Chromecast Ultra is fast and powerful and enough to do things on the fly without a lot of buffering or skipping.
No wonder it is priced double to that of a regular Chromecast. Besides standard WiFi specs, it comes with an Ethernet port built into the power supply. Using which you can plug it into a wired network switch instead of using Wi-Fi.
Chromecast vs Chromecast Ultra: Which one should you buy
There is four difference between the regular Chromecast and the Chromecast Ultra. The main difference between the 4K Ultra HD display feature. Other than 4K, the Chromecast Ultra comes with an ethernet alternative which allows you to use broadband. The Chromecast Ultra is obviously more powerful than the regular Chromecast. No wonder it is priced double to that of the regular Chromecast.
If you don't have a 4K Television then you should not upgrade to Chromecast Ultra. On paper, the Chromecast Ultra is more powerful and supports better video quality but it costs twice as much as Chromecast, putting it solidly in reach of nonbudget streaming media device like the 4K capable Roku premiere.
If you are looking for a budget media streaming device with basic features, then Chromecast regular is the best option. But if the main motive of you is playing 4K videos on your TV, then you should go for the Google Chromecast Ultra. If you plan and to upgrade to a 4k TV, then you should also upgrade to the Chromecast Ultra and use Ultra HD streaming to enhance your experience.
No matter with Chromecast you choose, you will enjoy Great movies and shows from hundreds of apps and you won't have to figure out any cryptic software or network setting to get started.