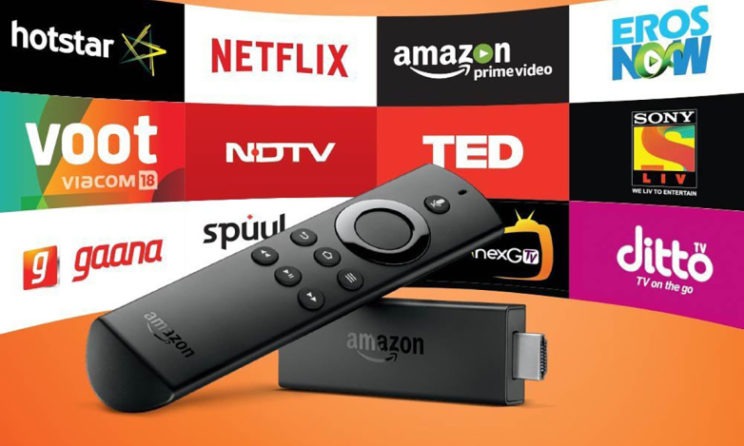 Apart from being just a marketplace, Amazon started to spread their legs into different sectors of the Business world. No one could imagine that Amazon will become a manufacturer and start selling their own products. Amazon now manufactures a wide range of products which includes Amazon echo, a rival of Google assistant, Amazon Fire TV stick and other mobile accessories.
Amazon fire TV stick is one of the best product that Amazon has ever launched. Fire TV Stick connects you to a world of online entertainment. With 3000+ apps, watch thousands of movies and TV shows on an HD TV. You can find your favorite web content with voice search and watch it anytime.
The most powerful function is perhaps the voice control. You can stream anything online over WiFi and just use your voice. It becomes easier for you to operate with time or if you have used Amazon echo in past. You can watch thousands of movies and TV episodes from Prime Video, Netflix, Hotstar and many more. Enjoy live TV, including sports and news. Plus, stream millions of songs through Amazon Prime Music, Gaana, and more. Subscription fees may apply based on apps.
Amazon Fire TV Stick 4k: A Perfect Choice
After using the device for a week, it feels extremely user-friendly and convenient to use. The remote now comes with on/off and volume buttons which are a very basic feature but was lacking in the previous version. Amazon fire TV stick is 4k enabled. Thus you can play 4k videos on your TV.
If you are looking for a streaming player then Amazon fire TV stick 4k is probably the best choice from our side. It is affordable and is priced below $50. You are getting a voice controller enabled fire TV stick at just 50 bucks.
It's the only competitor is Roku, which is also priced below $50. But Amazon's voice assistant has an upper hand because of the series of cool features. You can ask it to show news and even control your smart lights. Alexa has a very strong user interface making fire stick a better streaming device.
Features Of Amazon Fire TV Stick 4k:-
Connect Amazon Fire TV Stick to your HDTV and start streaming movies, TV shows and songs.

Easy to set up and use: Pre-registered to your Amazon account so you can just plug it into your HDTV and enjoy favorite titles and personalized recommendations.

Massive Selection: Get access to thousands of Hollywood and Regional language movies and TV episodes, songs and games.

Perfect with Amazon Prime: Amazon Prime members get unlimited access to Amazon Prime Video, featuring thousands of Hollywood movies, US TV shows, award-winning Amazon Originals and kids' shows at no additional cost.

Voice Search that really works: Amazon Fire TV Stick comes with a voice remote. Simply press the voice button and say the name of the Amazon Prime Video title you want to watch and start enjoying in seconds.

Take your TV with you: Bring your favorite shows and movies with you when you travel. Plug Fire TV stick into any TV's HDMI port, connect to Wi-Fi and continue watching. Some content not available in all countries.
Limitations of Amazon fire TV stick 4k
The fire TV stick's voice control doesn't work for all apps. Alexa is limited to Amazon prime and few other streaming apps like netflix, youtube etc.
Although it is Dolby enabled, it lacks Vudu which means that users get a limited choice.
The interface is not as user-friendly as Roku. If you haven't used Amazon echo in past, you may initially feel it a bit difficult control it with voice.