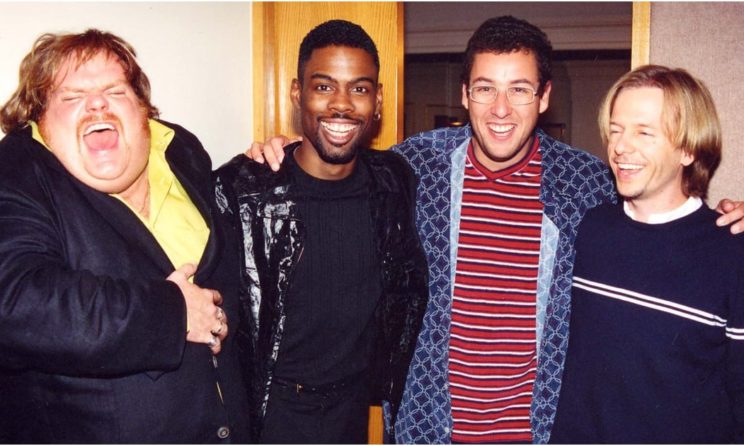 The greatest American comedian, Chris Farley, passed away on this day, 21 years ago. He took with himself the greatest comedian of the first generation. He left Behind the new generation's dead comics and actors. Nobody remembers his work, only those who have not him personally or have worked with him are aware of the best comics he wrote.
In order to give Chris Farley a tribute, Adam Sandler released a song on his YouTube channel. Many close ones have given a tribute to the legendary, Chris Farley, however, no one has posted a video excerpt as a tribute, like Adam Sandler. He also quoted him as the funniest man he ever knew.
Chris Farley and I started at Second City on the same day. You knew the minute you saw him on stage he was great. He was sweet and smart and funny. When I heard he had died, 21 years ago today, I fell to the ground. Rest In Peace.

— Stephen Colbert (@StephenAtHome) December 19, 2018
From this tribute, we can clearly see the love and respect Adam holds for Chris Farley. He elaborated how deeply he admired Farley as a person and comedian. The love and bond they said completely shines through this video.
Adam was seen cracking jokes to the live audience in the trailer of a new Netflix series, 100% fresh.  how he would have shared the stage, had his friend, Chris Farley been alive. Adam has started to stand up comedy once again after a very very long time. It can be seen clearly, how much he misses his old and loving friend.
Moreover, Adam shared his real-life stories with the audience. Later in the day, he posted a video on Facebook, remembering his beloved friend, Charles Farley. All the happens just after the launch Netflix's 100% Fresh.
Adam's Comeback To Stand up Comedy
100% Fresh was launched on Netflix, back on October 16th. The video come days after the release, on 18th December 2018. Adam left comedy and stuffs long back and had become an American actor. However, shared how his friends said that they injured his comedy. Giving this reason he made a comeback with 100% fresh. Adnan added, "I never thought of returning to stand up comedy, I was happy being an actor." Years after the death of a friend, he was a successful American actor but a lost Comedian. Hence, Netflix and Adam planned a short stand up comedy video, starred by Adam. The touching song cover wan icing on the cake.
It all started in the 1990s
Adam Sandler and Chris Farley began their career on Saturday Night Live. They ran the iconic show for 5 years. Post that they were fired due to some unclear reasons. Shortly, they started off as actors and got starred in a number of films. However, things changed in 1997, when Farley died because of a drug overdose. He passed away just before his acting career was taking off. This news left Adam in deep pain. He disappeared for a while. 21 years from his death, Netflix shared a video of Adam Sandler's new Stand up Comedy.