Want to know the best fitness trackers for 2019? Then you are in the right place. With Fitness tracker one can easily determine his/ her health as well as it also helps you to stay fit. With the availability of many choices in the market, one can easily get confused to find out the best out of them.
Today, we are going to provide you the list of top best fitness trackers for 2019 so that it would be easy for you to select best. So, without wasting any time let's get started….
Top Best Fitness Trackers
Best Fitness Trackers 2019
Fitbit Versa 2
Fitbit always offers great fitness trackers and with Versa 2 it proves that less is more. The fitness brand has also taken the whole thing that made the original an exciting smartwatch available in an affordable budget.
Fitbit Versa 2 offers improved features, voice assistant, improved lightweight design, always-on display option, and great battery life.
Some of the great Fitbit Versa features are Heart rate monitor, AMOLED screen, Altimeter, 5-day battery life, Sleep tracking, Music player and so on. It is also compatible with many devices such as Android, iOS, and Windows.
Xiaomi Mi Band 4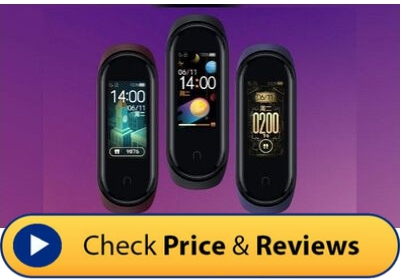 It is very known brand when it comes to smartphones but doesn't just underestimate it for being limited to just smartphones as it also offers the best fitness trackers compared to others. Xiaomi Mi Band 4 features Heart rate monitor, Six workout modes, 20-day battery life, Colour screen, Sleep tracking and so on. It is also wearable while swimming and is compatible with various devices such as Android and iOS.
The best part about Xiaomi Mi Band 4 is that it is a budget-friendly tracker and the battery life is way better than any other tracker as it has 20 days of battery life. It is also available in a beautiful color display.
Garmin Vivofit 3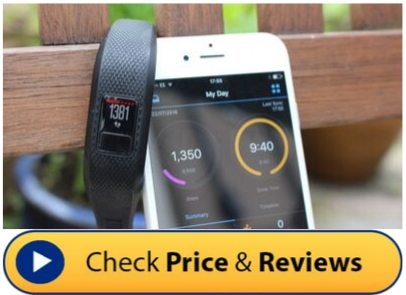 The Vivofit 3 of Garmin is a band-style activity tracker that features an extraordinary one-year battery life with no charging required. It shows steps, calories, distance, intensity minutes and time of day on backlit display as well as it also monitors sleep
It syncs automatically with the Garmin Connect companion app in order to upload all of the health stats that are fit to track (minus heart rate). It reminds you to stay active with a move bar along with an audible alert. It is also capable of auto-detecting your present activity in order to collect suitable data. Its price is very affordable, and you can get it at only $54 on Walmart.
Toobur Fitness Tracker
If you want a fitness-tracking band with the best features, design, looks, and price then Toobur Fitness Tracker is the best choice for you. It not tracks your activities while you are awake but as well as while you are sleeping. It will instantly remind you of Fitbit Alta, Flex 2, or the Alta HR with its slim LED display. The best part of this is that you can get the Toobur activity tracker only at $20 on Amazon. It will give you an experience of having simple wristbands with full-fledged smartwatches features.
Fitbit Charge 3
Fitbit Charge 3 is considered to be the best fitness tracker as compared to all its features and specification. It is better to measure calorie burn, understand resting heart rate & more with 24/7 heart rate tracking. It has a battery life of up to 7 days which may also vary due to the usage and other factors. The charge time id 0 to100 percent in about 2 hours.
It helps in choosing from 15 plus exercise modes such as run, bike, swim, yoga, circuit training and much more, after which it set a goal, and gets real-time stats for the duration of your workouts to see how you can keep getting better.
It also records the time spent in Light, Deep and REM sleep stages automatically and at the same time see activity trends, health insights as well as personalized guidance in one place with Fitbit Charge 3.
Some of the best Fitbit Charge 3 features are: Heart rate monitor, Altimeter, Up to 7-day battery life, Sleep tracking, Water resistance to 50 meters and so on. It is compatible with any device such as Android, iOS, and Windows.
Samsung Galaxy Watch Active 2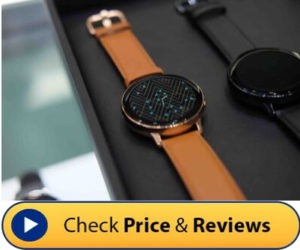 With lots of power to last all through your day-to-day workouts, you can pack in those lengthier hours in order to reach your fitness goals. Some of its features are Heart rate monitor, 2-3 days of battery life, GPS monitor, Sleep tracker, Music player, Water resistance to 50 meters and so on.
Samsung Galaxy Watch Active 2 is compatible with Android and iOS. It's durability standards are very high and you can also take your workout outside deprived of having to worry about dust or rain getting in your way. Some of its best features are Built-in GPS, Samsung Pay, View and reply to notifications and availability of LTE option.
Garmin Forerunner 245
Talking about fitness tech brands and not mentioning Garmin, it's impossible. Garmin is considered to be one of the biggest names in the world of fitness tech. Being one of the top brands, not only its features will amaze you but also its price as they're considerably less expensive than the other brands in the market.
Some of the great features of Garmin Forerunner 245 are Heart rate monitor, Up to 7-day battery life, GPS monitor, Music controls, Water resistance to 50 meters, Swim tracking, Colour screen. It is also compatible with Android and iOS.
A crisp, colorful display, detailed performance tracking and Smartphone notifications are some of the best things about Garmin Forerunner 245.
Conclusion
Nowadays, you can find many fitness trackers in the market but there are only a few of them which are actually trusted. We have provided you the list of some of the best fitness trackers that you can trust and these will help you out to stay fit and healthy. If you are thinking to try fitness trackers for the first time then these top fitness trackers that we have provided are worth a shot. For the beginners, this list will definitely help you out. I hope you would have found this list quite informative.