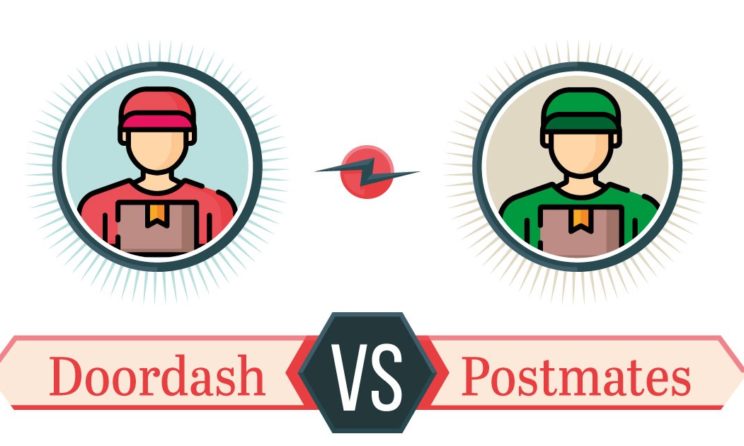 Postmates vs DoorDash: On-demand phone, delivery service is becoming more and more famous not only in the United States but across the world. There are many companies who are investing billions in this industry. People are getting lazy and they don't really want to physically go to the restaurant every time they want to eat good food. It's logical enough to order the food straight away from the internet and get it delivered at your doorsteps. Postmates and DoorDash a popular food delivery apps and we have compared Postmates vs DoorDash to find out which application is best for the customer.
Postmates vs DoorDash
Pricing
Price is a very important factor to compare food delivery apps because of not only the charge for the food but also for the delivery and other relevant things. A customer will always choose an application which provides a better deal and lower price. Both the food delivery apps have a fixed delivery charge and there are additional charges like taxes and surcharge fees. The surge fees are charged by postmates when there are a lot of orders.
However, there is a subscription option using which you can save the delivery charges and surge fees if any. Hence, postmates is a great food delivery app in terms of pricing if you are looking for a day to day service. The subscription will decrease the amount you spend on delivery fees and other surges. However, the difference in prices not much.
User interface
The user interface on both the application is quite good. However, they do not allow the customers to look at the restaurant availability without signing in to the app. Besides, all other interface looks quite similar. Users will find the process of ordering food extremely similar on both the applications. Besides, they also offer a live tracking feature after you order the food. Hence, you can track the delivery person who is going to deliver the food at your doorsteps.
Availability
It is very important to compare the food delivery apps on the basis of the locations they serve. There is no use to select an application which does not serve at your place. Postmates is a better application in terms of availability. We say this because the delivery service of postmates is available in more than 150 cities of the United States. On the other hand, DoorDash is currently serving in just 50 cities. Hence, it can be seen that postmates is a better food delivery application in terms of delivery locations.
Customer service
customer services one of the most important parameters of comparison because no company can survive well until and unless they have good customer service. However, it is a disappointment that neither of the companies has customer support phone number. The only way to reach them is my email and that too is not very easy. You will have to go through a number of forms on the website in order to access the email address and then raise the ticket of the issue. Then they shall reply to you within 48 hours.
Postmates vs DoorDash: Conclusion
In our comparison of Postmates vs DoorDash, we found out that post mates is a better option given the fact that it is available in more cities. Moreover, it also has a great subscription offer for people who are looking for day to day food delivery service. The number of restaurants available on post mates is also great compared to that of the Other food delivery app. Both the application lack customer support and this is why we haven't taken this into the account. Hence, you must go with the best application.